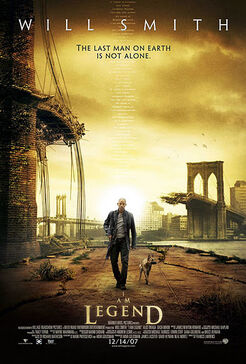 Welcome to the I Am Legend Wiki
Edit
A Page For All Your 'I Am Legend' Needs. Look Up About The 2007 Film, Or The Book Series!
Also, If You Love 'IAL' As Much As We Do, Please Join Our Chat Rooms! (Link Found In The "Home" Column)
Before you start to edit, please read the Rules & Regulations.
If There's Any Problems Or Requests, Or Just Want To Chat, Visit The Creator Of This Page: Dogs2me (Founder / Creator)
What Is 'I Am Legend'?
Edit
Years after a plague kills most of humanity and transforms the rest into monsters, the sole survivor in New York City struggles valiantly to find a cure. 'I Am Legend' is a Horror / Sci - Fi book and film about a survivor: The Only Man On Earth. A fatal virus has become airborn, and one man is immune, and tries to find the cure.
The original idea for the film was inspired by the book: 'I Am Legend' written by: Richard Matheson.
How Can I Find The Page I Am Looking For?
Edit
If you wish to find a particular page on this Wikia, you can search for the page in the search bar which is located in the top right hand corner. You may also scroll down to the next section: "I Am Legend Pages" and click the link to the page you desire.
If you can't find the correct page, this may be because the page has not yet been added. If this is the reason, please feel free to add the page...
I Am Legend Pages
Edit
Here, you can find all the pages so far located on this Wikia. To visit, just click the desired link.
Latest activity
Edit